Monthly Archives: September 2012
Chicago-based Creation Investments made its first investment in India in 2010 by picking up stake in Eko India Financial Services.
September, 13, 2012: SONATA Finance Pvt. Ltd., an Allahabad based NBFC Microfinance Institution, announced that it has closed its Series D equity raise of Rs.35 crore. The leading investor in this series was Creation Investments, an alternative investment management company in Chicago. Other investors in this round include The Michael and Susan Dell Foundation and Swaminathan Aiyar, a renowned economist.
SONATA currently operates in four states in India: Uttar Pradesh, Madhya Pradesh, Haryana and Uttaranchal. Despite operating in one of the most underserved and poorest regions in India, SONATA enjoys client confidence and profitable operations with a portfolio of approximately Rs.110 crore.
Anup Kumar Singh, Promoter and Managing Director of SONATA, said, "We welcome the support of like-minded stakeholders like Creation Investments which has endorsed our efforts to ensure quality services to the BoP population."
This is Creation Investments' first MFI investment in India. Ken Vander Weele, Chief Investment Officer at Creation Investments said, "We are excited to partner with SONATA for it's growth. We are long-term partners who will provide them with all the necessary support to achieve their mission."
With offices in Austin, TX and New Delhi, as well as Cape Town, South Africa, The Michael and Susan Dell Foundation funds programs such as SONATA that improve the economic stability of families living in poverty. SONATA impressed investors at the Dell Family Foundation with their performance during the Indian microfinance crisis.
Representatives at both Creation Investments and the Dell Foundation voiced their support of Indian microfinance. Geeta Goel, Director of Microfinance at The Michael and Susan Dell Foundation said, "Despite the crisis, we have remained committed to the sector and continue to support investees that have retained their focus on being client centric, transparent and financially viable."
"This transaction validates the fact that there is strong interest in [the] Indian microfinance sector," said Abhijit Ray, Co-founder and Director of Unitus Capital, the sole financial advisor and arranger to SONATA and its shareholders for the transaction.
http://www.vccircle.com/news/2012/09/14/allahabad-mfi-sonata-finance-raises-635m-creation-investments-others
http://www.microfinancefocus.com/mffnews/sonata-microfinance-raises-equity-rs35-crore
Posted: 09/14/2012 2:43 pm
As I look at the microfinance industry globally, I'm encouraged by the trends and the progress we've achieved so far. Whether you search in Wikipedia, CGAP or MIX Market, whatever the source of the data and however qualified, microfinance does have an impact on the lives of some 100 million clients today. And when you take into account that our clients are supporting an average of five people — family members, adopted orphans and employees — the impact of financial decisions are even greater. No wonder the industry is under such intense scrutiny!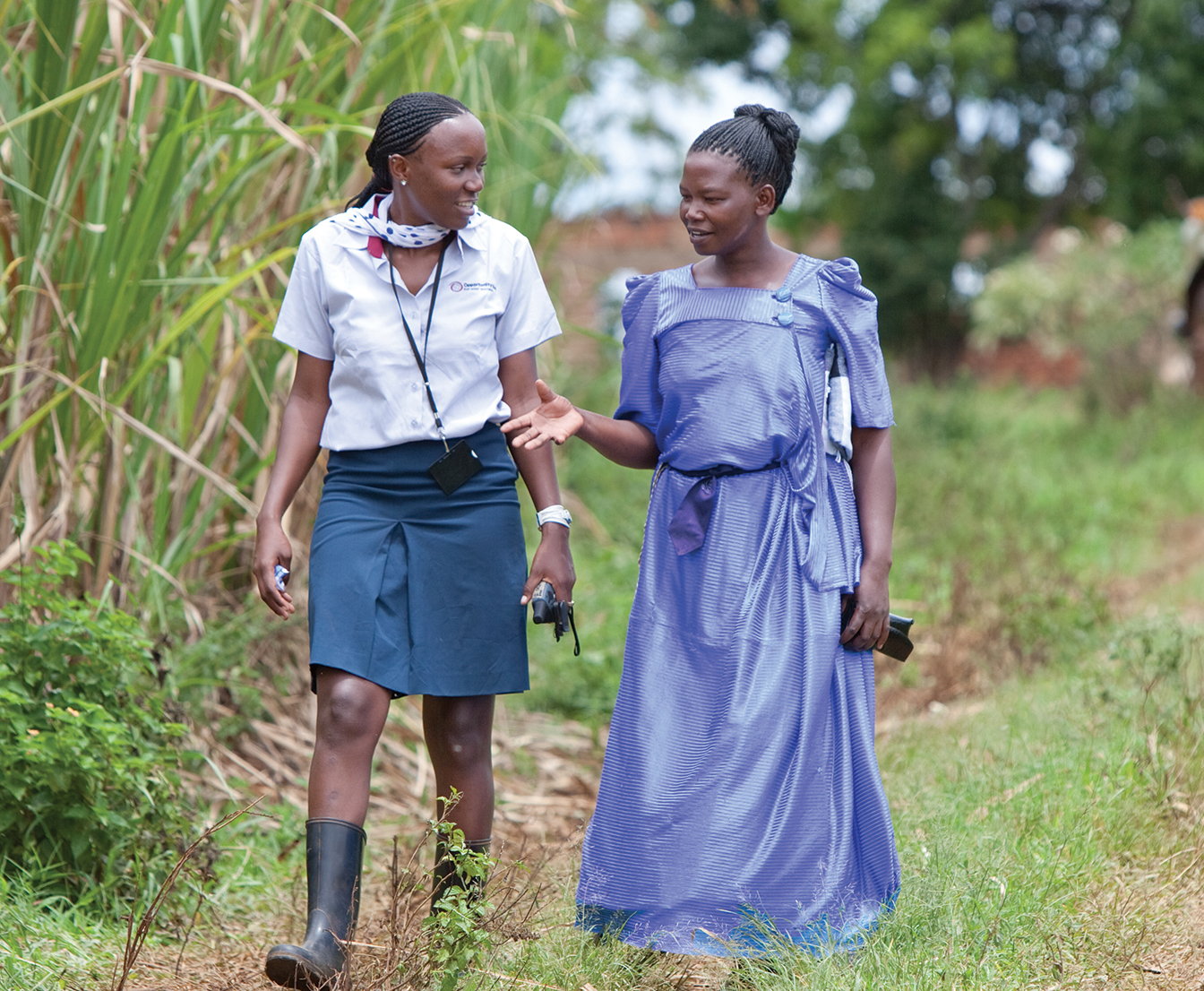 Photo: Opportunity International's Relationship Officer Phiona Ndikibuliraani, left, offers guidance to sugarcane farmer Loy Naigaga, in rural Uganda, ensuring Joy's long-term financial success.
When so many potentially vulnerable people are affected by an industry, it calls for the utmost care in how operators define and deliver on their mission. Microfinance must first and foremost be about making a difference in the lives of the impoverished and marginalized. It must be about having a positive impact for the overall welfare of microfinance clients. In order to effectively meet these needs, microfinance institutions (MFIs) must put clients at the center of their work.
MFIs must offer clients products and services that are responsive to their needs, with built-in flexibility to adapt as their businesses evolve. They must price products and services in a way that acknowledges that they are serving people in poverty. Yes, the microfinance target market arguably is very risky. Interest rates and fees charged should, justifiably, take into account this risk component, the high administrative costs of delivery of products and services, the funding costs, and the inflation rates in the markets served, among key factors. However, this cannot justify the high charges applied by some practitioners in certain markets, especially in cases where one finds large pricing differentials in the same market. I feel strongly that the profit motive must not take precedence over the social, transformative motivation. For some of us, serving impoverished people through microfinance is not simply a business. It is a calling, a mission, a passion.
MFIs must make every effort to treat clients fairly and gain a reputation for this ethos. Whether it is in pricing, or granting and collecting loans, microfinance clients must be respected, and they must feel that the institutions serving them will do so with humility and integrity.
MFIs must invest in the development of human capacity by training both MFI staff and clients. This is an added cost for the industry but one very much worth bearing in order to build the groundwork for sustainable financial growth among clients, and professional growth among staff.
Microfinance practitioners must ensure that they have in place sound governance and internal control structures, policies and procedures, as well as data integrity. That is, the information supplied to donors, funds providers, regulatory authorities, and the public at large must be accurate, transparent and reliable. They also must devise metrics to track a client's transformative journey, from group borrower to independent small business owner with multiple product needs, as she or he develops and expands the business. Not all microfinance clients are entrepreneurs. Nor will all entrepreneurs succeed. This is a truism for businesspeople in developed and developing countries alike. The strength of microfinance is in its variety of other product offerings in addition to small business loans. These products may include savings, domestic and international transfers, trade finance, insurance, financial literacy and life skills training, and more, depending upon the local regulations and the license held by the microfinance institutions.
MFIs must utilize metrics to track their impact and progress with clients, or where gaps may appear. Introducing self-assessment policies and procedures is a way to catch problems and issues at an early stage and, more importantly, to develop pre-emptive or remedial action plans in a timely fashion.
As competition in the microfinance industry intensifies in the coming years, MFIs must be careful not to follow the path taken by the mortgage crisis, with imprudent lending practices involving over-lending to clients. Where credit bureaus can be created by the regulatory authorities or the microfinance industry, this is to be strongly encouraged as a source of information for managing multiple borrowings by clients. I see increased competition in the industry as a net positive if it leads to more lives positively impacted, increased quality of products and services, and more innovative delivery systems aimed at lowering costs for clients.
A few aberrant cases of excessive pricing and coercive collection practices are enough to negatively impact the reputation of the whole microfinance industry. Initiatives like The Smart Campaign, which emphasize the need to put clients at the center of microfinance, are a bellwether for the shift in focus that is taking place. In Opportunity International's own banks, we strive to adhere to our Code of Conduct, published in every local branch, which outlines not only our commitment to transparent pricing and a fair return on equity targets, but our pledge to always treat clients with dignity and respect.
We must read the writing that has appeared on the wall in recent months. If the microfinance industry and its members fail to self-police, to exercise due prudence and restraint in the conduct of their operations, to serve and treat their clients fairly, and to rigorously comply with the laws of host countries in letter and in spirit, then we are inviting tight and perhaps detrimental regulatory oversight and public scrutiny. And even more importantly, our clients risk losing more than profits; they risk losing everything.
The Bangladeshi government is moving to exert control over the celebrated Grameen Bank.
With so many banks making headlines, it is easy to overlook news about Bangladesh's Nobel Peace Prize-winning Grameen Bank. No, this bank does not need a bailout. Quite the contrary, it has been prospering as it continues to provide life-changing microloans to millions of poor people. The borrowers also run the bank—they are the majority owners. But the Bangladeshi government recently moved to change this arrangement. We urge the government to reconsider.
At issue is whether the bank's managing director should be appointed by the board of directors (most of whom are elected by the millions of small shareholders) or by the bank's chairman, who is appointed by the government. Preserving the right of the board of directors to make this choice would be in keeping with the bank's most distinctive feature—that the institution's customers are also its owners and managers.
The Grameen Bank model has been strikingly successful; it should be emulated, not changed. With 30 years of experience, Grameen delivers exceptional loan-repayment rates (97%) while vastly improving the lives of its members. Credit is given only to start or expand businesses, and members join as groups of five, who provide mutual support and accountability.
With 8.3 million borrowers, Grameen is a primary source of capital for women entrepreneurs and has used its influence and resources to support education, community-hygiene initiatives, affordable health care and better nutrition. In the process, the bank has contributed mightily to social, civic and environmental awareness throughout Bangladesh.
In 2006, Grameen's owners and Muhammad Yunus, its founder, were honored with the Nobel Peace Prize in recognition of their efforts to reduce poverty. Dozens of countries have developed institutions based on the Grameen model, providing benefits to hundreds of millions of people in Asia, Africa, the Middle East, Latin America and even the United States.
A major reason for the bank's success is its loyalty to the principle that the same people who rely on it for credit also have a direct role in managing its operations. The idea that poor people can run their own bank successfully has been very empowering—especially for women, who make up the vast majority of borrowers and who often have little or no access to conventional sources of commercial lending. That is why it would be a mistake for the government of Bangladesh to deprive the board of directors of the right to appoint the managing director.
Borrowers elect nine of the 12 members on the board while the government appoints three directors, including the chairman. The board as a whole has been responsible for bank operations, a governance structure that has served the rights and interests of its member owners since Grameen's founding several decades ago. We believe that Secretary of State Hillary Clinton was right, in her visit to Bangladesh in May, to caution against any step that "would undermine or interfere in the operations of the Grameen Bank or its unique organizational structure."
Grameen Bank is more than just another financial institution. It is a living demonstration of how people who lack advantages of any kind can nevertheless lift themselves out of poverty through hard work and personal accountability. It is a testament to the capacity of women to succeed in business when accorded the opportunity to do so. And Grameen is—or at least it should be—a fundamental source of pride for the government of Bangladesh.
With the world watching, the government should consider carefully how to proceed now that its steps to seize direct control over the bank's leadership have stirred controversy. We hope it will choose instead to preserve a system that has worked well, earned credit for Bangladesh on the world stage, and inspired followers across the globe.
Mr. Shultz, a former secretary of labor, Treasury and state, is a distinguished fellow at Stanford University's Hoover Institution. Ms. Albright, a former secretary of state and permanent representative to the United Nations, is a chairwoman of the Albright-Stonebridge Group.
BY GERTRUDE MAJYAMBERE, 28 AUGUST 2012
Government's efforts to tackle poverty are bearing fruits courtesy of the fast growth of the microfinance sector. According to statistics, loans disbursed through the sector rose by 25 per cent in the first six months of 2012.
By the end of June 2012, a total of 362 out of 416 saccos were fully licensed, up from 139 at the same period last year. The microfinance sector is comprised of microfinance institutions and savings and credit cooperatives commonly known as saccos.
A recent monetary policy statement indicates that gross loans increased by 25.7 per cent to Rwf51.7 billion from Rwf40.7 billion, while deposits increased by 23.3 per cent from Rwf45.8 billion to Rwf56.5 billion, from December 31, 2011 to June 30, 2012.
The performance of microfinance institutions is mainly attributed to the growth of UMURENGE SACCOs. Umurenge SACCO is a government initiative as elaborated in the Vision 2020 development agenda that aims to increase access of financial services to citizens. The total assets of Umurenge Saccos increased by 22.2 per cent from Rwf77.4 billion to Rwf94.6 billion by June this year.
The microfinance policy was introduced as an addition to the other types of small and medium financing as a result of the country's enthusiasm to bring down poverty to acceptable levels through access to financial services.
According to Joseph Museruka, the Managing Director of Umwalimu Sacco, a teachers' savings and credit cooperative, his sacco is registering fast growth while its structure is ever-changing.
"We work closely with local leaders especially at the district level and we intend to go down to the sector and cell levels to reach out to as many clients as possible," he says.
The sacco initially gave members a maximum loan of Rwf3m which has since increased to Rfw15m.
Out of the 60,000 teachers in the country, 36,000 are registered members of the cooperative with over 34,000 benefiting from its loaning scheme.
The main advantage of saccos is their low levels of nonperforming loans that reduced from 12 per cent to 8.3 per cent by June this year. The Umurenge Saccos registered a decline of 2.6 per cent in the NPL rate at the end of June 2012 from 5.6 per cent at the end of December 2011, while that of other MFIs stood at 9.7 per cent decreasing from 12.9 per cent at the same period.
Elimination of nonperforming loans
To reduce the rate of nonperforming loans, Museruka says Umwalimu Sacco hired lawyers to follow up on clients defaulting on loan repayment.
"Once they get to know a lawyer is following up their case, they pay because they fear measures that may be taken after failure to pay," Museruka said.
He added that the sacco works with districts to channel the salaries of those who changed jobs or location.
Central bank figures show that as of June 2012, Umurenge sacco deposits accounted for Rwf30.2 billion against Rwf22 billion while gross loans were up at Rwf10.0 billion from Rwf4.7 billion at the end December 2011. Total assets increased by 40.6 per cent to Rwf40.8 billion June 2012 as opposed to Rwf 29 billion during the same period last year.
The Managing Director of Inkigi microfinance, Delphin Ngamije, says the sector has built confidence because of enhanced operations and general management.
According to Ngamije, MFIs have built capacity through different trainings in loan analysis and management of portfolio at risk.
"We enhanced our risk management system and loan analysis with a specific department on risk management," he notes. Also a department responsible for studying and approving loans of above Rwf6 million was established.
In a bid to continuously operate the low ratio of non performing loans, he said, they work closely with local leaders and police by providing them with a list of defaulters and jointly follow up on the dossier of each client.
Strong measures are also taken upon employees who reportedly approve loans based on their relationship with a client.
"The system is computerised and centralised thus monitoring all activities being done by our branches across the country," he points out.
Better standards of living
The high growth of the microfinance sector has fuelled expansion of private enterprises and facilitated job creation among the poor thereby allowing wealth creation to trickle down to low income groups.
The Director General of Rwanda Agricultural Board, Alex Kanyankole says the microfinance sector has significantly helped rural communities especially farmers to purchase agriculture inputs and other tools to boost production.
"Because of the loans, production per tree has doubled and we have seen farmers replacing old trees," Kanyankole observes.
Jeremie Iyakaremye, a farmer and head of coffee farmers' federation in Kirehe District says that through Saccos and microfinance institutions, farmers have managed to save and improve their farms.
"I channel the salary (Rwf50, 000) of my worker to a Sacco and because of this, he manages to get small loans to buy fertilisers or anything that could help improve his farm or life," he explains.
According Iyakaremye, many farmers show willingness to save unlike before when they were hesitant to embrace the initiative.
"In brief, it came as a solution to integrate the poor to the system and allow them to benefit from the expansion in economic activities, trading and wealth creation," he says.
The federation he heads is involved in processing and adding value to coffee in Kirehe District.
Financial inclusiveness
Access to financial services is key to mobilising resources and enhancing the savings culture thus contributing to inclusive growth.
Formation of Savings and Credit Cooperatives at the sector level has helped more Rwandans to access formal financial services.
The number of Rwandans accessing formal financial services increased to 42 per cent of the adult population from 21.1 per cent in 2008.
A study conducted by FinScopeRwanda indicates that the number of the adult population accessing informal financial services increased to 29.8 per cent from 26.4 per cent in 2008, which means that 71.8 per cent of Rwandans are financially included.
The statistics also indicate that government is in line to attain its target of 80 per cent of the population getting access to financial services by the year 2017.
Central bank says the good performance is also driven by enhanced supervision with onsite supervision being conducted by BNR personnel in collaboration with district inspectors.
Global Times | 2012-8-28 20:25:03
By Xuyang Jingjing
Zhao Chengrong, an elderly farmer from Wufeng township, Hunan Province, is happy to get a preferential loan of 500 yuan to prepare for the coming spring ploughing on March 2, 2011. Photo: IC 
For Jin Longmei, the poverty trap seemed like it was impossible to escape. The 41-year-old farmer, a member of the Yi ethnic group, worked in Laojianghe village in Jinning county, Yunnan Province, where she grew corn and tobacco, feeding a family of five with only 7,000 to 8,000 yuan ($1,258) a year.
But it turned out that all she needed was 5,000 yuan to turn things around. In 2009, she received a two-year loan from the local women's federations, and was able to diversify into growing more profitable snow peas. She more than tripled her annual income, paid the money back earlier this year, and has now borrowed a larger sum.
There are many such microfinance projects in China aimed at helping the poor in rural areas. It is been almost 20 years since the country began to experiment with modern models of microfinance and "banks for the poor," but experts say the scorecard is less than satisfactory and severe challenges lie ahead.
Loans for the lowest
Microfinance has a long history. In China, the Kuomintang government ran microfinance projects in the 1930s and 1940s through the Chinese Industrial Cooperatives.
Modern-day microfinance was popularized by Muhammad Yunus, the founder of the Grameen Bank in Bangladesh.
In 1993, Du Xiaoshan, a researcher at the Rural Development Institute of the Chinese Academy of Social Sciences (CASS), introduced the Grameen model to China. His team established the cooperatives to operate small loans.
Not long after such trial projects kicked off, in 1996 the government issued a plan to alleviate poverty and provided subsidies to banks to give out small loans.
While waning in the West, this type of government-subsidized small loans still make up a major part of the microfinance sector in China. With very low interest rates of around 3 or 5 percent annually, or in some cases no interest at all, such loans can cover a larger population in a short period of time, said Du.
For example, the China Women's Development Foundation started a microcredit project in 1996 and now has a total loan of close to 30 million yuan. It has helped nearly 300,000 women.
In 2012, Jinning was given 1 million seed money from the China Women's Development Foundation for a one-year microcredit project. The money was given to 210 families in three villages for different projects, including growing snow peas, tobacco and flowers.
The wide reach of local women's organizations helps promote the microcredit project. No collateral is needed, and women were chosen based on their situation and trustworthiness, said Wang Mengtao, chairwoman of the local women's federation in Jinning county.
Each family gets around 3,000 to 5,000 yuan in loans and the annual interest rate is only around 3 to 5 percent. Five families are grouped together to ensure enough supervision to pay back the money.
The organizations have already decided what the money will be used for and arrange training sessions for the villagers. For instance, in Laojianghe village, borrowers are encouraged to grow snow peas, which were already sporadically planted.
"The idea is to have more people grow it, so that we can contact companies to come in and purchase from villagers," said Wang, adding that it is much easier than for villagers to go out and sell the peas.
Six months into the project, the villages reported a 20 to 40 percent increase in income.
Although Jin is making more money now, she said she still needs the loans to expand her farm. Snow peas take considerably more preparation than corn, and 5,000 yuan only covers one or two mu (667 square meters) of farmland, she said.
Dependence problems
The advantage of the microcredit project is obvious, since no collateral are needed and it is easier to pay the loan back, but it is also difficult to expand operation given the small scale of the loans, said Wang.
The low interest on such loans is certainly attractive to the poor, but it also leads to problems if not well managed. "Such projects rely heavily on government subsidies or donations, which could hurt their sustainability. If not well managed, borrowers can easily become too dependent on such loans and consider them donations," said Du.
The low cost also creates room for corruption and rent-seeking, meaning the rich could easily take advantage of the loans, creating new inequality, he added.
"Unfortunately we can find all these problems in China. Management across all those different government agencies is also a great challenge," said Du, 65, generally regarded as the "father of microfinance" in China.
The Grameen model that Du and his team in the CASS introduced to China represents another, more sustainable model of microfinance, where the institutions are run like a business, but instead of seeking profit, are aimed at helping the poor.
In 1994, with funds provided by Ford Foundation and Grameen Trust, Du and his team established a cooperative in Yixian county, Hebei Province. They also tried to raise funds from businessmen and other donors.
Poor women are the main borrowers, as in many other countries. No collateral is needed, but instead five people form a group to provide peer pressure. They pay the money back in two weeks or a month, and then borrow again. The cooperative also tries to invite technicians to give free training to the villagers.
The CASS project now has cooperatives in five counties, with over 15 million yuan in investment and over 100 million yuan in loans. The loans support about 16,000 families and cover about 150,000 poor people, according to the cooperative's website.
Loans are given at an annual interest rate of 16 to 18 percent, much higher than those from subsidized projects but still lower than commercial banks.
The advantage of such a model is that it is sustainable, because the institution covers its own costs and doesn't rely on subsidies, experts say.
Funding woes
But lack of legitimate funding is a major challenge for these organizations. For a long time microfinance organizations have been caught in a fuzzy legal status. "Is it a company, or an NGO? Nobody knows, and there's no regulations in this regard," said Du, adding that back in the 1990s, these organizations were sometimes considered illegal.
These organizations therefore cannot legitimately raise funds or collect deposits, nor could they get loans from banks.
Earlier this year Wokai, a microfinance organization, closed its operations after five years due to funding troubles.
The organization, which includes a website wokai.org, raised over $500,000 worldwide to help Chinese people living under the poverty line. They had given out over 1,500 loans to 961 borrowers with a repayment rate of over 98 percent, according to an announcement on its website.
Capacity building is another problem as many people don't have the necessary knowledge and skills to handle microfinance.
"The staff needs to understand the rural areas and the villagers, and they need be able to assess and control the risks, and that requires training," said Du.
Back in the 1990s when international NGOs funded microfinance projects in China, they had training and education programs installed. But most of them halted after the NGOs left, he said.
Since 1993, there have been about 300 microfinance projects but over the years two thirds of them had to shut down due to poor management, lack of funding, or other problems.
The repayment rate has stayed at over 98 percent for most of the organizations, according to statistics collected by the China Association of Microfinance in 2011. Some of them are losing money and the volume of loans varies from area to area.
Yet the demand for loans is much greater than the supply. In 2011, China again raised the poverty line from 1,196 yuan a year to 2,300 yuan. By this standard, there are 122 million people, or 12.7 percent of the rural population, who are still living under the poverty line.
According to a report by Deutsch Bank Research in 2007, the microfinance sector, with about $25 billion in total loans, couldn't meet the demand of roughly 1 billion micro-borrowers.
"Microfinance in China is still in a very primitive stage," said Du. "It lacks reach, depth and efficiency."
The government has issued directives encouraging the development of microfinance. In 2008, guidelines were issued for the development of commercial microcredit companies, which mushroomed under the policy incentives.
But strictly speaking, such commercial "microcredit" banks and companies in China give out loans that average around 1 million yuan, much higher than the internationally recognized standard for microfinance, explained Du. According to international standard, a single loan has to be less than 2.5 times per capita GDP to be called microfinance, which translates to roughly 100,000 yuan in China.
This means that those living under the poverty line couldn't possibly benefit from such loans.
In comparison, the government has yet to issue similar guidelines for the nonprofit microfinance sector, despite issuing a document in 2006 that supports and encourages microfinance organizations.
Du believes the solution is simple. "If they can issue guidelines for commercial loans, why not the nonprofit ones?"
Du and other experts have also tried to persuade the authorities to set aside a wholesale fund, a practice adopted in dozens of countries, which evaluates microfinance organizations, helps build up their capacity and then gives them the seed money to operate.
With government action not forthcoming, the microfinance organizations are trying to survive on their own. In the 1990s, economists like Mao Yushi and Justin Yifu Lin started experimenting with anti-poverty microfinance in Shanxi Province. They founded the Beijing Fuping Institute, a NGO, in 2002 and later a microcredit company in 2009 to expand their services.
By 2011, the company had a gross loan portfolio of over 36 million yuan in loans with a repayment rate close to 99 percent.
The microfinance association has also set up a small 10-million-yuan wholesale fund last year which would help foster a handful of organizations.
"Despite all the difficulties, the microfinance organizations have survived and are growing, and that is reason for hope," said Du.