Monthly Archives: July 2012
This is a guest post written by Debbie Dean (Project Director, Microsavings Initiative) and Camilla Nestor (Vice President, Financial Services) from Grameen Foundation.
When we launched our microsavings initiative – a three-year project funded by the Bill & Melinda Gates Foundation that aims to reach 1.45 million new savers across three institutions in Ethiopia, India and the Philippines – we set out to answer a range of questions, including:
Will the poorest save via a mobile-enabled channel?
Can you create a workable savings business model for all parties using a business correspondent approach?
In India, microfinance institutions aren't permitted to intermediate deposits, and regulators are encouraging the business correspondent model to further financial inclusion.  The Reserve Bank of India (RBI) permitted banks to use the services of intermediaries who act as business correspondents (or agent) to provide banking services.
We saw an opportunity to test the potential of the business correspondent approach as a means of scaling mobile savings services for the poor, working with our long-time partner, Cashpor, an MFI operating in two of India's poorest states – Bihar and Uttar Pradesh.
Grameen Foundation launched a partnership to test and scale this mobile-enabled business correspondent approach with the following institutions: ICICI (India's largest private commercial bank, which holds the savings deposits), Cashpor  (the "business correspondent," which uses its deep field network to originate and service the deposit accounts) and Eko Technologies (the technology partner, which enables a fully mobile-enabled approach as well as coordination among Cashpor's and ICICI's back-office systems).
A Mobile-Enabled Savings Product for the Poor
In our initial client-level research, we learned that 20% of Cashpor's clients owned a mobile phone, 60% had access to a mobile phone and 20% had no access to a phone. With these statistics in mind, we launched the first savings product nine months ago – a no-frills account (NFA). In India, NFAs have limited functionality – they do not require ATM cards, have no opening/minimum deposit required and do not use check books – but they do allow the client to select whether they want a "pay per use" plan (in which they are charged per transaction) or an unlimited annual plan.
Cashpor customers can open their NFA account and make deposits and withdrawals during weekly center meetings using the mobile phone.  Microfinance clients attend weekly meetings ( which occur close to their homes) to repay their loans.  In this meeting, the center manager not only collects the loan repayments, but also collects deposits and makes withdrawals.  Also, they can check their balance at any time via the phone. Customers conduct their banking via SMS, using a unique set of numbers that informs Eko Technologies of the type of transaction (deposit, withdrawal, and balance inquiry) they are performing.  Eko's solution works with multiple mobile network operators, making it an agnostic network that maximizes outreach to Cashpor's client base.
Nine months into project launch, the results so far speak for themselves: More than 60,000 savers have opened accounts, with an average of 250 people opening a savings account each day. The average savings balance is 348 rupees (US$7.50), and the average balance has been increasing at a rate of 15% per month.
Key learnings
Though we are starting to see initial successes, there have also been a number of challenges on our path to provide mobile-enabled savings for the poor.  We have identified several key learnings for similar business correspondent model approaches targeting the poor and the poorest:
1)      For an MFI like Cashpor, originating and servicing savings – but not intermediating them, and thus not generating revenue from lending the mobilized funds – there are fundamental business model questions.  Cashpor makes the business correspondent model economically viable by providing a full suite of financial services, including pension schemes, money transfers, credit and savings. Cashpor also utilizes its existing credit infrastructure, meaning that savings are evaluated using marginal costs.
2)      Getting the business model right for all parties – including clients – is a challenge. And once the business model is in place, it can be difficult to make tweaks to the products and/or delivery channel given the tripartite agreements in place.
3)      Working together across three partners (ICICI Bank, Cashpor and Eko) requires strong communication flows, ensuring that all parties agree on the objective and that all believe they have an equal stake in the outcome of building a successful business correspondent model.
4)      Clients are hungry for a safe place to save. We are seeing the volume of transactions and the average savings balance increase month-over-month.   And, the very poor can and do save – 68% of Cashpor's savings clients live below the $1.25/day poverty line, and the vast majority of Cashpor's existing clients live below the $2.50/day line.
5)      Just because the poor own a mobile phone, it doesn't mean they know how to use it. "Mobile phone literacy" is just as important as financial literacy. Initial market research showed that some customers knew only how to press the "green" button to answer and the "red" button to hang up. We needed to place a strong emphasis on educating the customer beyond just why and how to save, but how to use the phone to perform transactions, what to look for in the English-based SMS confirmations and how to ensure that their money is safely in the bank (so if they lose their phone, they don't lose their hard-earned savings).
6)      Training Cashpor's field staff to be agents meant that they had to change their interactions with the customer.  It's not just training on the savings product; other critical elements include training on the change in processes, how to interact and engage with their clients, and how to continue to provide good customer service in this new model.
Though there is still much to be learned from our work with Cashpor, there is promise in this business model.  We are looking forward to the challenges ahead of us, creating solutions to resolve them and ensuring that we have created a business model where all three partners can continue to provide savings services to the poor and poorest.
Capitalism depends on access to capital. It's a sad development that banks have turned away from the noble task of directing financial seed corn and instead make bets on interest rates.
Many in America today fear that our nation is going the way of Europe—becoming more socialist and redistributionist as government grows ever larger. But the most disturbing trend may not be the fiscal enlargement of government through excessive spending, but rather the elevated role of monetary policy.
Our central bank, the Federal Reserve, uses its enormous influence over banking and financial institutions to channel funds back to government instead of directing them toward productive economic activity. For evaluating the damaging effects of this unhealthy symbiosis between banking and government, the more instructive model is the Soviet Union in its final years before economic collapse.
We can draw lessons from the fact that the Soviet Union went bankrupt even as its fiscal budget statements affirmed that government revenues and expenditures were perfectly balanced. Under Soviet accounting practices, the true gap between concurrent revenues generated by the economy and the expenditures needed to sustain the nation was obscured by a phantom "plug" figure that ostensibly reflected the working capital furnished by the Soviet central bank, Gosbank.
The problem for the Soviet government was that financing provided by the state-controlled bank was supporting an increasingly unproductive economy—bailing out unprofitable enterprises that had long since quit producing real economic gains that might have raised living standards. The extension of credit to these entities had little to do with merit or potential usefulness.
The Soviet central bank was making up for the difference between government revenues and government expenditures by creating empty credits to be disbursed by central-planning bureaucrats. By the time Mikhail Gorbachev came to power in 1985, vowing to address the disastrous financial situation of the Soviet Union through "perestroika," or restructuring, the budget deficit being financed through the nation's central bank amounted to more than 30% of total government expenditures.
Lenin had been wise about the uses of banks. Shortly before the October Revolution, he wrote: "Without big banks, socialism would be impossible. The big banks are the 'state apparatus' which we need to bring about socialism, and which we take ready-made from capitalism."
Those big banks can be easily seen today in America: They're the ones deemed too big to fail because their demise would threaten U.S. financial stability. As mandatory members of the Federal Reserve System, they are vital partners for conducting monetary policy through the purchase and sale of Treasury bonds orchestrated by our central bank, a process known as "federal open market operations." Besides serving as conduits of Fed policy for expanding or contracting the money supply through Treasury debt transactions, commercial banks can also access short-term funding directly from the Fed through its "discount window."
As our own nation's budget deficit has grown substantially larger in recent years—with the shortfall between government receipts and government outlays widening to 34.9% in the enacted budget for fiscal year 2012—our central bank has aggressively stepped up its involvement in financing government spending in excess of revenues.
In 2011, the Fed purchased a stunning 61% of the total net Treasury issuance, thus absorbing a huge portion of the fiscal overhang. Meanwhile, the Fed has been making funds available to member banks at record-low interest rates, targeting zero to 0.25% in the federal funds market and charging less than 1% on primary loans through the discount window.
It's a bad combination: The Fed, a government agency, not only conducts monetary policy through commercial banks using Treasury debt and by extending virtually cost-free lines of credit; it also regulates those same entities. Our nation's depository institutions are at risk of becoming complicit instruments of the federal government rather than private credit-granting companies serving free enterprise.
Washington's dire financial condition is distorting the very nature of banking and defeating the fundamental purpose of financial intermediation. Instead of taking on the risk of making loans to small-business owners, or to individuals wanting to purchase underpriced real estate with future potential, bank portfolio managers have every incentive to play it safe. Why do anything that might raise the eyebrow of the visiting banking examiner?
Even as community bankers feel the subtle pressure to avoid local lending, the distorted incentive structure resulting from the Fed's behemoth presence in banking and finance has its greatest impact among the larger institutions. They can earn more profits by trading sophisticated financial derivative instruments and speculating in currency markets rather than engaging in the hard grind of evaluating individual proposals from entrepreneurs seeking investment capital.
According to the Bank for International Settlements, more than 75% of the $647 trillion in notional value of outstanding derivatives arises from such contracts linked to interest rates—an indication of the extent to which monetary policy dominates the world of big finance.
Capitalism depends on access to capital. It's a sad development that banks have turned away from the noble task of directing financial seed corn to the most promising harvesters of productive endeavor. And that they are drawn instead to playing the Fed's nuanced game of betting on government debt and arbitraging interest-related plays.
Recent suggestions that perhaps the solution is to involve our central bank even more in the lending decisions of banks—by having the Fed grant special funds to American banks for the express purpose of re-lending them to government-approved nonfinancial borrowers—highlight how alarmingly dirigiste the entire system has become. Can central planning be far away?
Ms. Shelton is senior fellow at the Atlas Economic Research Foundation and the author of "Money Meltdown" (Free Press, 1994) and "The Coming Soviet Crash" (Free Press, 1989).
A version of this article appeared July 25, 2012, on page A15 in the U.S. edition of The Wall Street Journal, with the headline: The Soviet Banking System—and Ours.
Amy Neumann
, Dell
For millions of people without access to traditional banking, the internet is a lot more than a place to share the latest family photos. It's an opportunity to tell their stories and gain access to small loans that can change their lives.
Just 10 percent of the global population has access to traditional banking, according the Gates Foundation. To bridge the gap, microfinance institutions step in. Microfinance entails loans of as little as $25 to unemployed or low-income individuals or groups who would otherwise have no other means of gaining financial services, providing low-income people with opportunities to become self-sufficient.
Back in 1974, a Bengali man named Muhammad Yunus created the concept of microfinance with Grameen Bank, winning him the Nobel Peace Prize in 2006 for the dramatic global impact of his idea. The World Bank estimates that more than 500 million people have benefitted from microfinance to date.
Different than charity, these loans are repaid to the individual lenders. Since 2005, Kiva, a person-to-person microlending organization, has provided more than $329 million from 786,000 lenders in 62 countries, with the astonishing repayment rate of 98.97 percent. Borrowers are able to tell their stories online, along with details of their business idea – say, opening a shop or buying materials to make goods by hand.
Kate Cochran, COO of education microlender Vittana, notes the ripple effect these small loans can have across entire families and even generations. "In India, an education can increase earning power by 200 to 300 percent. In many cases, siblings are able to pay for younger brothers and sisters to complete their education with that extra income, and the upward cycle repeats."
The Dell Foundation also supports and funds microfinance, with a focus on promoting family economic stability by working to increase the number of high-caliber Microfinance Institutions (MFI) in urban communities through Ujjivan. Other microfinance organizations include ACCION, Microplace, and Grameen America. Many MFI's also offer microloans in the U.S. for entrepreneurs with solid business plans but who don't qualify for traditional bank loans.
Global Philanthropy Group partner Maggie Nielson, who helped develop and implement the United Nation's Year of Microcredit  program in 2005, sums it up nicely: "People just want access to the same financial tools we have so that they can help themselves. They don't want someone else to build them a big project or give them a handout. They are perfectly capable of creating their own success even though they weren't born into the same circumstances. That is the kind of assistance anyone can give. You can literally change someone's life."
Fonkoze Credit Center – Participants in Chemen Lavi Miyó, a program offered by Fonkoze (a microfinance organization). The participants meet twice a week in Mirebalais, Haiti, to learn basic life skills. Photographer: Laura Elizabeth Poh
A major argument in favor of microfinance is that the poor who live in areas without banking services will gain higher returns on investments and increase their assets when provided with credit.
But a notable new study from the Consortium on Financial Systems and Poverty presents some of the first real evidence of microfinance impacts and indicates that the true returns of expanding access to credit are much more complex. Some of the greatest benefits to alleviating poverty, the study suggests, may be in the impact the programs have on driving up wages.
The research, by economists Joseph P. Kaboski of the University of Notre Dame and Robert M. Townsend of the Massachusetts Institute of Technology, examined changes in behavior resulting from the Thai Million Baht Fund. This initiative by the government in Thailand transferred one million Thai baht (about $24,000 at the time) to each of 77,000 villages throughout the country. The goal was to increase available credit and stimulate the economy. The findings were published earlier this year in the journal Applied Economics.
The CFSP study found that the village fund had the desired effect of increasing overall credit in the economy, and, in fact, in the long run, the program led to an overall expansion of credit. More significant, the authors argue, is that that wages increased by approximately 7% in a typically-sized village during the first two years that were tracked.
"This paper is the first real evidence we have on wage impacts of microfinance," notes Kaboski. "The impact on wages is important in terms of the potential of microfinance as a poverty reduction program. Only a relatively small fraction of the poor want to borrow from microfinance, but a much greater share of the poor work, and might therefore benefit indirectly from an increase in wages. We are far from understanding the mechanisms, but there is great potential here."
The authors suggest that the wage impacts may be because the fund led to a more efficient distribution of capital to entrepreneurs, which then increased the demand for labor. The study recorded that the wages increased for general non-agricultural labor, such as construction in the villages, but not for professional occupations or occupations outside of the village.
Additionally, the study showed, other effects of the injection of credit were more short-lived, including a notable jump in consumption, and increases in borrowing, business and labor income, and investment in agriculture.
The authors report that further examination of the data is underway. Their findings are based on an economic model they developed, using data captured as part of the Townsend Thai Data project, a monthly household panel survey that Townsend has led since 1997.
The paper, "The Impacts of Credit on Village Economies," was published in the journal Applied Economics earlier this year.
Source: AAAS EurekAlert
Photo:  Bread for the World 
http://greenbuildingelements.com (http://s.tt/1iuIn)
NAIROBI, Kenya—At a recent group-lending meeting in the Kawangware slum, about 10 miles from downtown, Jackson Munyovi sought $350 to build a new shanty for his wife and two children.
Nichole Sobecki for The Wall Street JournalJackson Munyovi borrowed $350 to build a new shanty for his two children and wife.
The 31-year-old welder asked fellow church congregants and friends to co-sign a loan to finance building materials. A church deacon vouched for the borrower's assets, including a few metal-shop machines and his marital bed, and Mr. Munyovi promised to repay the loan in six months, plus 8% interest.
And with that, Equity Bank Group—one of Africa's most ambitious banks—snagged another customer.
The Kenyan bank has enjoyed a booming business lending to people with little collateral beyond the potential disgrace of letting friends down. Equity executives aren't shy about a business model that leverages societal mores and shame—often the strongest collateral to be found on a continent where formal credit records are scarce beyond the biggest cities.
"If a woman secures a mortgage with her matrimonial bed, she will never default," declares Chief Executive Officer James Mwangi. "And other women will support her just to ensure that that matrimonial bed is not removed when the husband is not there. Here, social relationships are more valuable than economic relationships."
In this field, known as microlending, Equity executives say their main competition isn't other banks—it is the bedroom mattresses where many Africans store their savings. Nearly 90% of Equity's customers are first-time bank clients, Mr. Mwangi said.
The unbanked represent about 80% of Africa's adult population, or 326 million people, according to banking-industry estimates. Most of those people are employed in Africa's massive informal sector—a term describing an untaxed, unregulated part of the economy.
Among African microfinance institutions, both public and private, performance has lagged behind similar lending organizations elsewhere, according to a recent study by the Consultative Group to Assist the Poor, a microfinance-policy-research group supported by the World Bank. Only 25 African microfinance institutions have assets greater than $30 million, compared with Latin America and the Caribbean with 105 institutions and 62 in Europe and Central Asia.
Leveraging Friends in Kenya's Slums
Nichole Sobecki for The Wall Street JournalWorkers take a break at Jackson Munyovi's metal shop.
Other Kenyan banks, particularly Kenya Commercial Bank, also are expanding their customer bases by targeting small borrowers in the informal economy, but none have caught up with Equity, which pioneered the idea of signing the unbanked in Kenya and fortified its position with the nation's largest network of storefront banking agents.
That leaves Equity with few competitors in Africa and none that can match its scale.
The bank started out as Equity Building Society in 1984, a mortgage financier for low-income Kenyans. The company nearly collapsed by the 1990s due to management shortcomings, a downturn in the nation's banking sector and nonperforming loans topping 54% of its portfolio.
Mr. Mwangi joined the bank in 1993 after working for Ernst & Young and Trade Bank, a now-defunct Kenyan bank, and was its chief executive officer by 2004. He is credited with fashioning its microlending strategy and steering it toward profitability by targeting individuals with deposits of less than $200 and little collateral beyond the willingness of friends and neighbors to vouch for them.
For the bank, amorphous social relationships that bind communities—church and mosque associations, tribal and familial relationships, company and school affiliations—became a hard asset.
In their lending decisions, executives used a hybrid approach that combines hard-nosed cultural analysis with microlending techniques. Such methods are common at nonprofit institutions, but Equity has used them to make money.
In 2011, pretax profit surged 42% to $150 million, making it Kenya's second-most profitable bank after Kenya Commercial Bank. About a third of Equity's loans in 2011 were noncollateralized payday advances for as little as $12 for civil servants who agreed to repay the loans with 10% interest taken out of their next paycheck.
An additional 11% of Equity's loans were to small enterprises such as fruit stands, used-clothing racks and hair salons. Collateral can include anything from furniture, household appliances or the business's assets.
Upon repayment, borrowers can qualify for loans of $590 and then $886 to be paid over the same term. The final step for new borrowers is a $1,200 loan to be paid within a year.
Godfrey Chege is one such customer: He received a loan for almost $1,200 from Equity to expand his chicken-selling business. He and his wife pledged their bed as collateral.
Eighteen months after Equity opened an office in Kibera, one of the world's largest slums, the branch had more than 15,000 clients, according to Francis Mbindyo, a manager of the recently opened Kibera branch.
Customer lines at other Equity bank branches often snake out the front door. Mr. Mbindyo says borrowers must also be part of a loan group of at least a dozen people willing to be co-signers.
Nonperforming loans accounted for 2.7% of Equity's total portfolio, according to the company's most recent quarterly statement.
For 88% of Equity's customers, the bank was the first bank at which they ever opened an account, and more than three-quarters of Equity's loans are unsecured by collateral.
Equity also uses an agency model in Kenya, paying commissions to storefront operators who act as remote bank tellers in rural areas. The bank had nearly 4,000 agency locations in March 2012, compared with 875 at the beginning of 2011. One-fifth of Equity's cash transactions are done through agents, according to company statements.
Equity is also expanding regionally. The bank has opened a total of 51 branches in Uganda, South Sudan and, most recently, in Rwanda and Tanzania. Those forays were preceded by yearlong executive-training programs for local staff, said Mr. Mwangi.
"We want to be an international bank that is a local bank in every community," he said.
Fruit farmer Thomas Kimote's first Equity loan was for about $200 four years ago. He used the money to expand his operation and he now supplies several of Kenya's largest grocery stores.
"I am more of distributor now," said Mr. Kimote.
Mr. Mbindyo, Equity's Kibera branch manager, said that Mr. Kimote's business had resulted in other customers for the bank, including his suppliers, his drivers and others linked to his enterprise.
A version of this article appeared July 23, 2012, on page C1 in the U.S. edition of The Wall Street Journal, with the headline: Finding Big Profits In Many Little Loans.
Mark Klugmann
April 20, 2012 | Universidad Francisco Marroquín | 10 min
Click here to watch the video. An excellent session on the importance of legal, administrative and political structures to stimulate economic development.
http://newmedia.ufm.edu/klugmannleapzones
Mark Klugmann is the creator of the LEAP Zones model (a legal, economic, administrative and political framework for a free city/charter city. He served in the White House as speechwriter to Presidents Ronald Reagan and George H.W. Bush; then, he moved to Chile where he helped Jose Piñera to create the International Center for Pension Reform.
In El Salvador, he assisted two governments in reforming pensions, telecom, ports, dollarization, labor rationalization, security policy and family legislation, collaborating with Juan Jose Daboub and Manuel Hinds. <b>In Honduras, he began working with President Porfirio Lobo, then leader of the Congress. He also collaborated with Octavio Sánchez who launched and leads the creation of Special Development Regions for Honduras, based on the LEAP Zones model that Klugmann created and brought to Honduras. Klugmann has lectured on his methodology at the World Bank and Harvard's Kennedy School, testified on reforms before legislative committees in the US, UK and Chile, and worked closely with 6 governments in Latin America. He is on the board of Americans for Tax Reform Foundation.
http://www.huffingtonpost.com/jessica-gage/microfinance-at-work-in-t_b_1615930.html
Posted: 06/21/2012 1:54 pm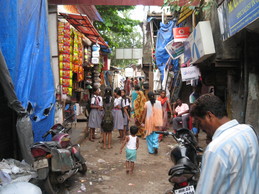 I began work at Swadhaar FinServe during the very hectic collections week, the designated dates of each month when the loan installments of all 80,000 active clients are due. While some clients choose to pay their installment by visiting a local Swadhaar branch office, many opt to have their loan officer (LO) make a scheduled visit to their slum community. Each of Swadhaar's roughly 250 loan officers are responsible for a number of slum neighborhoods, or zones, scattered throughout Mumbai and the LOs spend this week hustling hurriedly through their zones as they collect loan repayments from their clients.
Nilesh is a Swadhaar loan officer who works primarily with the group loan product, a loan that is specifically designed for groups of three to five working women whose income level falls under the international poverty line of $2 a day. Early in my first week at Swadhaar, I accompanied Nilesh on a typical day as he visited his zones located throughout the northern Mumbai district of Santacruz. He carries with him a roster which lists all the client loans that are due on that particular day. This list includes specific information regarding each group leader, the woman that has been designated as the contact person and who is ultimately responsible for collecting money on behalf of the group and meeting repayment deadlines.
We start the day by knocking on the house of a woman who runs a jewelry making business with several other women in her community. As we are invited into her home, we see the women crowded together on the floor, busily beading several necklaces and bracelets while children of various ages play around them. This group has used their loan to purchase new beads and jewels and they are excited to show me the new products they have created.
A few houses down, we visit a woman who has used her loan to purchase additional textiles for her clothing business, in which she sews saris for women in her community. She is on her second Swadhaar loan, or cycle, and says she has plans to renew for a third in order to continue to grow her business.
The slum communities are densely packed, with winding paths that have no street names, let alone house numbers, and so although Nilesh has spent time in these neighborhoods, he must often rely on the local residents to be pointed in the direction of the next client. We find ourselves lost several times throughout the day, having taken a left when we should have taken a right or walking past a client's home because there were no identifying markers. With little space to spare in the slum communities, homes are often stacked upon one another and in order to reach homes on the second level, we must climb an external metal ladder.
The collection due date is written into the loan contract that the client signs and is given a copy of to keep for their records. Nilesh says that he usually calls a few days beforehand to remind his clients that he will be stopping by. I notice that most women are expecting him and it is clear that he has developed a friendly relationship with many as they invite him into their homes and offer him water or tea while he fills out the necessary paperwork.
The homes in these communities usually consist of a single large room, with one corner designated for the kitchen and cooking area and another corner for the washroom. In order to conserve floor space, shelves cover the walls and are filled with dishware, pots and pans, clothes, bedding, and usually a television, that is turned on more often than not. Without many options to choose from, each woman seems to keep her money in a unique hiding place within her home. One woman opened a large jar of grain and fished out a small wallet while another lifted a photo away from the wall and reached behind it for her stack of rupees.
After nearly fifty home visits, Nilesh had made it through his roster and we returned to the Santa Cruz branch office. While most clients were home when we came by, there were a handful of women that were nowhere to be found. Nilesh places these names on a list that he will return to after the remaining scheduled collections are completed.
Although collections week is incredibly hectic and certainly exhausting, Nilesh says that he enjoys seeing his clients and learning about how they are using the loan. He asks me if I would like to accompany him again next month. He then quickly mentions that navigating the streets of the slums gets easier every time.
For more information, please visit: accionambassadors.wordpress.com
OP-ED COLUMNIST
Published: July 4, 2012 53 Comments
Damon Winter/The New York Times
Nicholas D. Kristof

Nicholas D. Kristof/The New York Times
Biti Rose Nasoni in the village of Masumba, Malawi.
If you want to understand some of the best new ideas to chip away at global poverty, an excellent place to start is the Nasoni family hut here in the southern African nation of Malawi.
Alfred Nasoni and his wife, Biti Rose, have had seven children in this village of Masumba. Two died without ever seeing a doctor. Alfred and Biti Rose pulled their eldest son out of school in the fourth grade because, they said, they couldn't afford $5 in school costs for a term. And they farmed only part of their 2.5 acre plot because they lacked money for seeds.
Yet poverty is sometimes romanticized, and it's more complicated than that. Alfred, 45, told me that even as his children were starving, he spent an average of $2 a week on local moonshine and 50 cents on cigarettes. He added that he also spent $2 or more a week buying sex from local girls — even though AIDS is widespread.
All this hints at an uncomfortable truth: The suffering associated with poverty is sometimes caused not only by low incomes but also by self-destructive pathologies. In central Kenya, a recently published government study found that men, on average, spent more of their salaries on alcohol than on food.
It's a vicious circle: despair leads people to self-medicate in ways that compound the despair.
Yet there are escape hatches. In 2005, Biti Rose joined a village savings group founded by CARE, the international aid group. These "village savings and loans" are among the hottest ideas in development work. They now serve some six million people in 58 countries.
After recent financial crises, plenty of Americans love to hate banks, but many of the world's poor don't have that luxury: more than 2.5 billion people worldwide don't have a bank account, according to a landmark World Bank report, "Measuring Financial Inclusion."
The poor typically receive a pile of cash once or twice a year, at the end of a harvest, and then have no good way to save it. That increases the risk that some of it will be squandered.
In some African countries, cellphones are emerging as the new banking system. But here, and in much of the world, the solution is savings groups like Biti Rose's. She and 19 other members met weekly and each deposited the equivalent of about 10 cents. The money was then lent out to members, and CARE coached them on how to start small businesses.
With a loan of $2, Biti Rose started making and selling a local version of doughnuts, which she initially sold for 2 cents each. "People really liked my doughnuts," she noted, and soon she was making several dollars a day in profit. Inspired by her example, Alfred began growing vegetables and selling them; he turned out to be a shrewd businessman as well.
Seeing an upward trajectory in the family fortunes, Alfred cut out the girlfriends and curbed his drinking, he says.
Biti Rose and Alfred then had the resources to buy seed and fertilizer for all their own land and to lease an additional two acres as well. These days, they hire up to 10 farm laborers to work for them. In the old days, they harvested less than one bag of corn a year; this year, their harvest filled seven ox carts.
All savers aren't that successful, of course, but there's no doubt that the nudge to save money and start businesses can be transformative and self-sustaining. CARE moved on in 2009 to take its model to more needy areas in Malawi, but the savings groups around this village multiplied anyway. Other farmers envied Biti Rose and Alfred replacing their leaky grass roof with a tin one, and they decided to start their own savings groups. The idea has even spread, without CARE's help, across the border to villages in Mozambique.
Yet I think there's something going on here beyond microsavings and entrepreneurship.Esther Duflo, an economist at the Massachusetts Institute of Technology and co-author of an exceptionally good book called "Poor Economics," argues that outside interventions sometimes work partly when they give poor people hope. That's precisely what I've seen in many countries: Assistance succeeds when it gives people a feeling that a better outcome is possible, and those hopes become self-fulfilling as people work more industriously and invest more wisely.
For Alfred and Biti Rose, their hopes are now focused on their younger children (the oldest has married). Biti Rose never went to school at all, but she is planning to send her younger children to university.
She is also planning future purchases, including the first television in the area. But don't think Biti Rose is going to kick back. She sees the TV as an investment.
"I'm a businesswoman," she said firmly. "I can't give anything away. If there's a soccer match or something, anybody who comes in my house to watch will have to pay a fee."